Getting married and encountering a child that resembles the couple would probably be the most ardent wish in all the couples in the world. Therefore, at the moment of planning pregnancy and childbirth, one is bound to have mixed emotions including excitement, happiness and fear which is the reason one is bound to become prudent than ever before.
The process of the priceless experience as one transforms into a mother of a child over a 10month span is never easy. The joy of becoming pregnant with the first child doesn't last long as one is curious from top to bottom, starting from the consistently changing body to prenatal education and preparation for pregnancy and one is bound to face difficulties. There's no one beside you every day to explain in detail with kindness and it's not easy to visit the hospital every time. There is one place in Korea that has materialized the pre and post-natal medical service, understanding such desires of families and mother while embracing the heart of a true mom. 'De RAMA, her garden drama' is now the best post-partum care center as it has been frequented by top-class celebrities.
Embracing the hope as a doctor and mother
DERAMA took its first step as a post-natal care center in May 2008. DERAMA is oriented towards an integrated pre-natal and post-natal one stop medical service that had been perfected based on meticulous researches by obstetrics and gynecology specialists. Programs such as making mobiles and immoderate yoga for mothers who require sufficient rest are unimaginable here. During the 2~3 weeks of recovery period after childbirth, all the focus is placed on the stability of mothers as well as individual treatment, ensuring that mothers can return to the perfect condition before childbirth.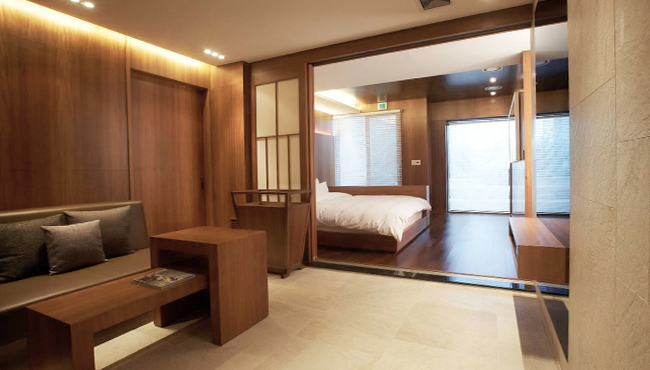 1.The reason top Korean celebrities including Ko So Young, Kim Hee Sun, Jung Hye Young, Lee Bo Young, Son Tae Young, Lee Min Jung and Kim Hyo Jin have highly praised DERAMAand many mothers have chosen DERAMA is precisely because of this differentiated luxurious interior. The comfortable and cozy atmosphere that resembles a hotel suite room and world-class bed brand, Duxiana add to the luxury.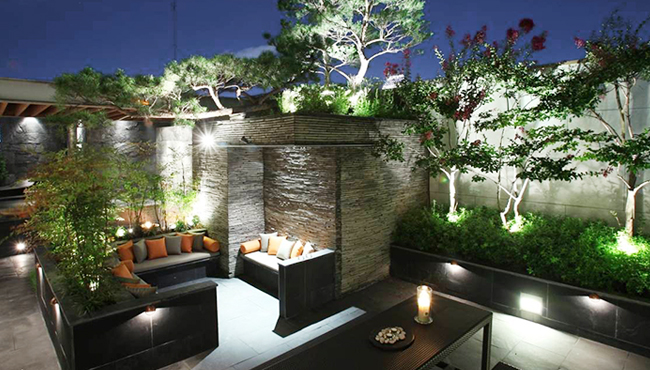 2.Outdoor spa located on the rooftop terrace. This space which reminds users of an outdoor garden in a hotel is part of the DERAMA spa over 350 pyeong and can be accessed during pre-natal and post-natal management. The outdoor terrace as well as the lounge within the hospital have been designed to make users rejuvenate in a well-cared garden, living up to the name of the care center, 'Her Garden'.
Presenting the happiness and affection of a precious moment
Representative Director who understands the heart of mothers more than anyone else endeavors to provide the things that mothers need the most with the heart of a mother. "As it is a hospital where the journey as a mother begins from a mother's perspective, I wanted to make them feel that this was absolutely different from any other spaces. I contemplated on what type of hospital I would like to give birth in if I was a mother. I'm sure anyone would want to avoid lying down side by side in a chaotic labor room in a hospital just like a factory, listening to each other's labor pain, enduring the pain in horror then giving birth on a delivery bed when it's their turn. After reading the article about Brad Pitt and Angelina Jolie who modified their own house for a delivery room, I was determined to create a delivery room where mothers could go through labor and give birth comfortable in a stable condition. So, this space facilitates a family delivery room where mothers can use personal as well as a private surgery center where everything starting from childbirth to recovery can be received at one place without having to move around. Moreover, the artworks of a familistic painter Kim Dukki were placed around the hospital and care center to create a gallery-like atmosphere."
In fact, mothers-to-be who have visited DERAMA and mothers who have given birth here unanimously complimented and have said that they understood why DERAMA was the only differentiated clinic in Korea and how it has pioneered the post-natal care culture on a whole new level.
Integrated outpatient center, Trinity Clinic
DERAMA post-natal care center is not simply just a place for receiving post-natal care services unlike other post-natal care centers. An integrated outpatient treatment center, Trinity Clinic encompassing DERAMAob/gyn, pediatrics, dermatology and anesthesiology exists and over 100 residing employees are devoted to pre-natal and post-natal management. Mothers after childbirth are most sensitive to body changes arising from pregnancy. In particular, breastfeeding day and night requires ob/gyn treatment for breast engorgement, mastitis, uterus contraction, lochia and others as well as continuous observation by specialists for gestational diabetes, food allergy, thyroid illnesses, stretchmark and others. In addition, customized treatments in preparation for unexpected symptoms are in dire need. All these cares are offered in DERAMA alone. Furthermore, rounds are made by pediatrician for newborn babies with extremely vulnerable immunity and a system is in place to enable jaundice and infant vaccination if necessary.
Majority of mothers who visit the care center ask and have high expectations for the nurse to newborn baby ratio and the residing nurses. DERAMA post-natal care center has the lowest number of newborn baby in each newborn baby room and is separated in different floors. Due to the small number of newborn babies in a room, the risk of infection is low and a more detailed care is possible. In particular, one of the things that mothers are most concerned about is whether professional care for newborn babies by full-time nurses is provided during the care period and whether love and care just like the baby's grandmother are provided. Full-time nurses with international breastfeeding qualifications are allocated in the newborn baby room of DERAMA post-natal care center. Individual customized care can be provided even for mothers suffering from insufficient milk amount, engorgement, mastitis and others so majority of the mothers can successfully end breastfeeding.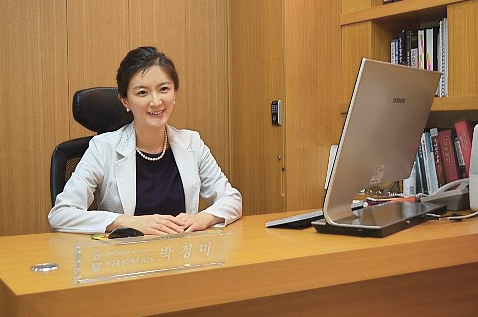 1.Representative Director Park Jung Mi who has given birth to both children and received post-natal care in DERAMA is receiving the spotlight from mothers delivering at old age and from mothers with specialized job thanks to the systemized and professional mother care.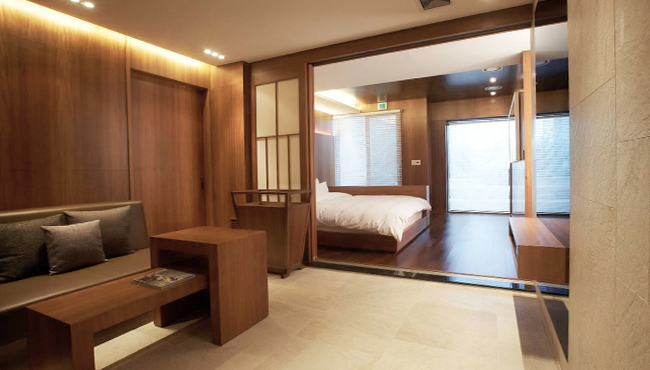 2.Dermatologist treatment can be received in a private space with 1 person per room. High frequency treatment for weight increase and abdominal obesity as well as treatment for stretchmark using medicinal drugs can be received here.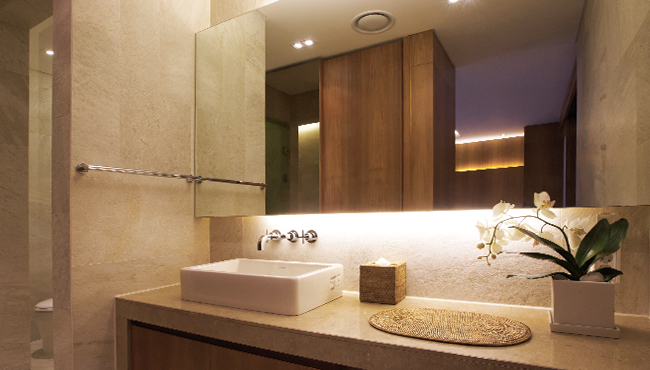 3.The interior of the delivery & surgery center as well as post-natal care center that has the finishing touches with Duomo Bagno tiles manufactured by Florim Group in Italy provides cozy and comfortable atmosphere embracing the breeze of nature itself.
Taking a rest in her unique garden
DERAMA's specialized dermatologist and spa for mothers are one of the specialized services that are already well known among mothers-to-be. Director of Dermatologist Park Jung Mi states, "Receiving care from non-specialists who do not accurately understand the process of childbirth, indiscreet diet, and extreme dietary treatment may harm the mother's health. DERAMA offers programs tailored for mothers through individual treatment including full-body, high frequency care, treatment for edema, gestational acne and freckle, regeneration of C-section scar and new programs are continuously being researched and developed." Just like her statement, it is certain that the space optimized for mothers who have successfully completed the most miraculous mission in the world is, in fact, DERAMA.